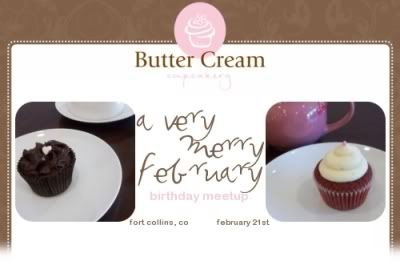 You are cordially invited to come celebrate with us!
What♡A birthday or unbirthday party for every CO lolita!
When♡February 21st, 1-6ish
Where♡Fort Collins, CO - Asian Grill & Lounge and Butter Cream Cupcakery
We will meet at 1 at the Asian Grill, then move next door to the cupcakery at around 2, so you're welcome to just join us for the latter.
Please bring a gift worth $5-10
- this is a birthday party, after all! Everyone who brings a gift will go home with one. A general lolita theme for the gifts is a good thing to keep in mind.
Please dress in some sort of Japanese fashion attire
- this isn't hugely formal, but we'd like to keep some sort of uniformity.
Cost will most likely be between $15-20 for both lunch and the cupcakery, so please keep this in mind.
Asian Grill & Lounge
3640 S. Mason St. #12
Fort Collins, CO 80525
(970)223-3388
Butter Cream Cupcakery
3680 S. Mason St.
Fort collins, CO 80525
(970)225-1040
In case of poor weather or substantial scheduling conflicts, the date will be moved to February 28th.
Most of you should have my number by now, but if you need it or would like Lindsey's (
littlepixieloli
) number as well, please message me.
Hope to see you all there!
[x-posted to
egl
]